By Elise Bateman on Oct 19, 2021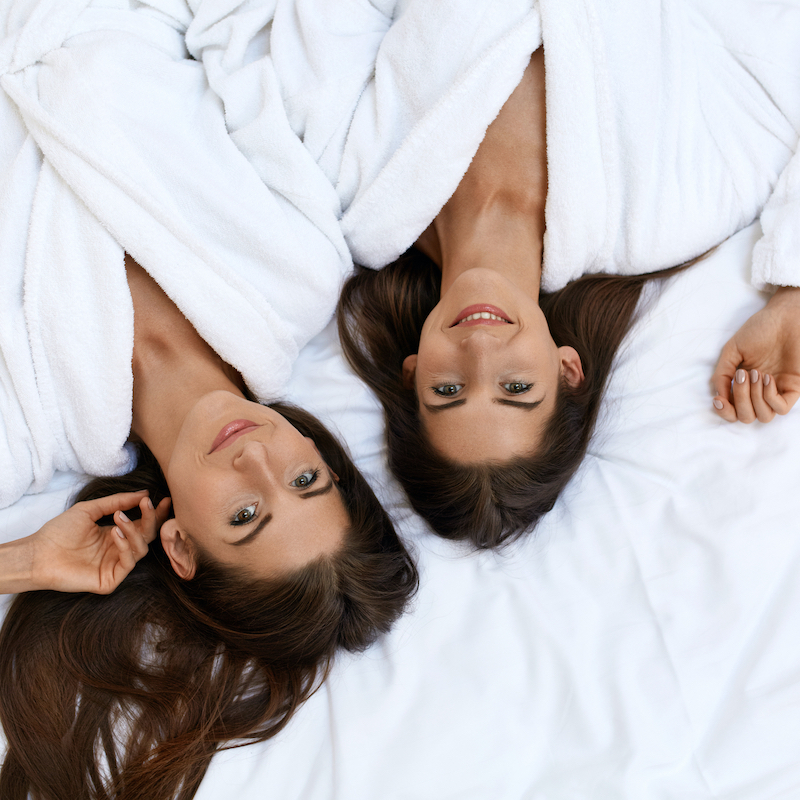 CBD Skin Benefits
One of the ways CBD oil impacts the health of your skin is by interacting with your body's endocannabinoid system (ECS) as a bioactive agent. The CBD skin benefits are demonstrated by an improvement in the health of skin cells, hair follicles, and subcutaneous (under the skin) glands (1,2,3).
Your skin is one of the first layers of defense of your body when it comes to environmental pathogens. Our CBD skin care has been developed with the highest quality CBD hemp oil to maximize the benefits to your skin. We utilize only full-spectrum oil which means that our oils are whole plant extractions which include the full range of cannabinoids, terpenes, flavonoids, and stilbenes present in the hemp plant.
All of these full spectrum active ingredients work together to make our CBD skin care more effective than distilled hemp oil or isolated CBD, where the majority or all of the other hemp compounds are burned off (4). Moreover, our CBD oil contains high levels of fatty-acids (omegas 3 & 6) which further promote skin health by increasing the absorption of the oil through the presence of a variety of soluble lipids (4,7).
CBD skin oil works to protect your skin from harmful UV rays, pollutants, and toxins as well as functions as an anti-aging agent (2,5). Thus, our CBD skin care not only helps you have healthy skin today, but also equips your endocannabinoid system to have healthy cell development in the future.
CBD oil works with your body's natural processes by interacting with skin receptors to incorporate terpene-phenol compounds found in the oil, to synthesize within your skin's ECS cellular system, bringing maximum benefits and regulation of your skin and overall health in areas such as hydration, cell regeneration, and the reduction of acne (3, 4, 5, 6,7).

"This face oil is the best! I have tried all kinds of CBD products and this one is pure magic. It soaks right in and instantly helps melt away redness. - Breanna, Bigfork, MT"

CBD Oil for Wrinkles
Another way Montana Pure Botanicals CBD skin oil benefits your skin is by preventing and reducing signs of aging - namely, wrinkles. Many studies show that topical application of hemp seed oil reduces free-radical damage by helping your skin to repair and correct the negative impacts of environmental toxins (2,7,8).
Further, research has consistently shown the benefits of topical application of hemp seed oil with virtually no unwanted side effects and can be an especially beneficial non-invasive component of care for those who have skin problems (3, 5, 6, 7).
Lastly, numerous studies of topical application of CBD oil have demonstrated its effects on reducing the appearance of blemishes, scars from surgery, and scars from acne (5). The anti-aging effects can also be attributed to the fatty-acid omegas found in the hemp oil (8). This is just one of the reasons you should consider our Total Renewal CBD Oil for wrinkles.
Bioactive Body Balm
Montana Pure Botanicals CBD skin care suite includes a CBD rich bioactive body balm. "Bioactive" means that the natural ingredients in our hemp body balm are raw and active, working with your endocannabinoid system to promote skin, joint, and muscle health.
This CBD balm contains organic hemp seed oil, organic Shea Butter, natural Montana beeswax, organic eucalyptus oil, and organic full spectrum hemp extract. CBD and these ingredients further support skin health because they contain natural antiseptic components to protect and strengthen your skin's cells.
Hemp Face Moisturizer
No CBD skincare line would be complete without a face moisturizer. Our hemp face moisturizer renews and plumps your facial skin by activating your cannabinoid system. Lavender, eucalyptus, and rosehip oils work alongside our full-spectrum hemp oil to cleanse, hydrate, and activate anti-inflammatory ECS response to promote healthy pores.
Additionally, Montana Pure Botanicals hemp face moisturizer is packed with bioactive cannabinoids, terpenes, stilbenes, flavonoids, and other phenolic compounds, as well as Vitamins A, C, E, and B Complex, further equipping your endocannabinoid system to put your best face forward.
CBD HEMP OIL FOR FACE
View More Info
CBD MASSAGE OIL
View More Info
Hemp Daily Oil for Nails
While much has been said about the topical application of hemp oil and CBD oil for you skin, it also must be noted that hemp daily oil for nails is an important component of nail care. Many studies have shown that the high-level of omegas (fatty acids) found in hemp seed oil - both topically and orally utilized - have positive impacts on nail growth and strength because of the fact that omegas contain linoleic and linolenic acids along with crucial vitamins and minerals that support skin cells (8, 9, 10).
Hemp oil can also operate as an anti-fungal agent, an important component of nail health since so many toxins and fungi can gather under nailbeds (11). Moreover, hemp seed oil is rich in keratin-boosting amino acids, vitamin E, carotene (precursor to Vitamin A), phytosterols, and minerals.
The minerals found in hemp oil include calcium, magnesium, sulfur, potassium, phosphorous, as well as modest amounts of iron and zinc. Magnesium is especially important to nail health as it helps create the protein that will grow new nails and prevent problematic ridges.
For these reasons, our CBD skincare line also includes hemp daily oil for nails, a 100% organic superfood for your hand skin and nails.

I use this CBD massage oil in our massage clinic, our clients love it and some use it in their regular home-care routine. It smells fantastic and has a luxurious feel; the color is green like the plant, and is very earthy. We have been using this product for several months with positive feedback from our clients. I use it personally and I highly recommend this CBD oil as it is a superior and quality oil, made in Montana! - Katie M., Kalispell MT

Organic Body Oil for CBD Massage — for your shoulders, knees, and toes!
To round out Montana Pure Botanical's skin care line, we formulated our Organic Body Oil which is perfect for CBD Massage. This oil covers all the bases - literally applicable to your whole body! This oil packs a punch to strengthen your body's natural endocannabinoid system processes to promote skin hydration and protection as a moisturizer for your skin. CBD and the other phenolic compounds also work to relax muscles and the eucalyptus oil refreshes the senses.
At Montana Pure Botanicals, we are committed to bringing you holistic CBD skincare that nourishes, protects, and strengthens your body's largest organ - your skin. Our topical products have got you covered - CBD hemp oil balm, organic body oil, total renewal nail oil, and hemp face moisturizer which will equip you to put your best body forward, now and in the future. We encourage you to put your holistic health first - starting with your skin!
References
Dréno, B. (2017). What is new in the pathophysiology of acne, an overview. Journal of the European Academy of Dermatology and Venereology,31(S5). Retrieved from https://onlinelibrary.wiley.com/doi/full/10.1111/
Moseley, Jack. "The Science of Skincare/Why CBD and Skin?.". retrieved 9.29.2021. Retrieved from Why CBD and Skin? | The Topical Co.
Oláh, A., Tóth, B. I., Borbíró, I., Sugawara, K., Szöllõsi, A. G., Czifra, G., . . . Bíró, T. (2014). Cannabidiol exerts sebostatic and anti-inflammatory effects on human sebocytes. The Journal of Clinical Investigation,124(9), 3713-3724. Retrieved from https://www.jci.org/articles/view/64628.
Oomah, B. Dave, et al. "Characteristics of hemp (Cannabis sativa L.) seed oil." Food chemistry 76.1 (2002): 33-43. Retrieved 29 September 2021. Characteristics of hemp (Cannabis sativa L.) seed oil - ScienceDirect
Hempseed oil showed absorbance in the UV-B and UV-C ranges with potential for use as a broad spectrum UV protectant.
Palmieri B, Laurino C, Vadalà M. A therapeutic effect of cbd-enriched ointment in inflammatory skin diseases and cutaneous scars. Clin Ter. 2019;170(2):e93–e99. doi:10.7417/CT.2019.2116 Watch A therapeutic effect of cbd-enriched ointment in inflammatory skin diseases and cutaneous scars | The Therapeutic Clinic (clinicaterapeutica.it)
Tamás Bíró, Balázs I. Tóth, György Haskó, Ralf Paus, Pál Pacher,The endocannabinoid system of the skin in health and disease: novel perspectives and therapeutic opportunities, Trends in Pharmacological Sciences, Volume 30, Issue 8, 2009, Pages 411-420, ISSN 0165-6147, https://www.sciencedirect.com/science/article/pii...
Leizer, Cary, et al. "The composition of hemp seed oil and its potential as an important source of nutrition." Journal of Nutraceuticals, functional & medical foods 2.4 (2000): 35-53.
Callaway, J. C. "Hempseed as a nutritional resource: An overview." Euphytica 140.1 (2004): 65-72.
Devi, Vibha, and Shabina Khanam. "Comparative study of different extraction processes for hemp (Cannabis sativa) seed oil considering physical, chemical and industrial-scale economic aspects." Journal of Cleaner Production 207 (2019): 645-657.
A.P Simopoulos, The importance of the ratio of omega-6/omega-3 essential fatty acids, Biomedicine & Pharmacotherapy, Volume 56, Issue 8, 2002, Pages 365-379, ISSN 0753-3322, https://www.sciencedirect.com/science/article/pii...
Ali, Esra MM, et al. "Antimicrobial activity of Cannabis sativa L." (2012). Retrieved 30 September 2021.

Antimicrobial Activity of Cannabis sativa L. (scirp.org)