By Dagmara Mach on Mar 04, 2021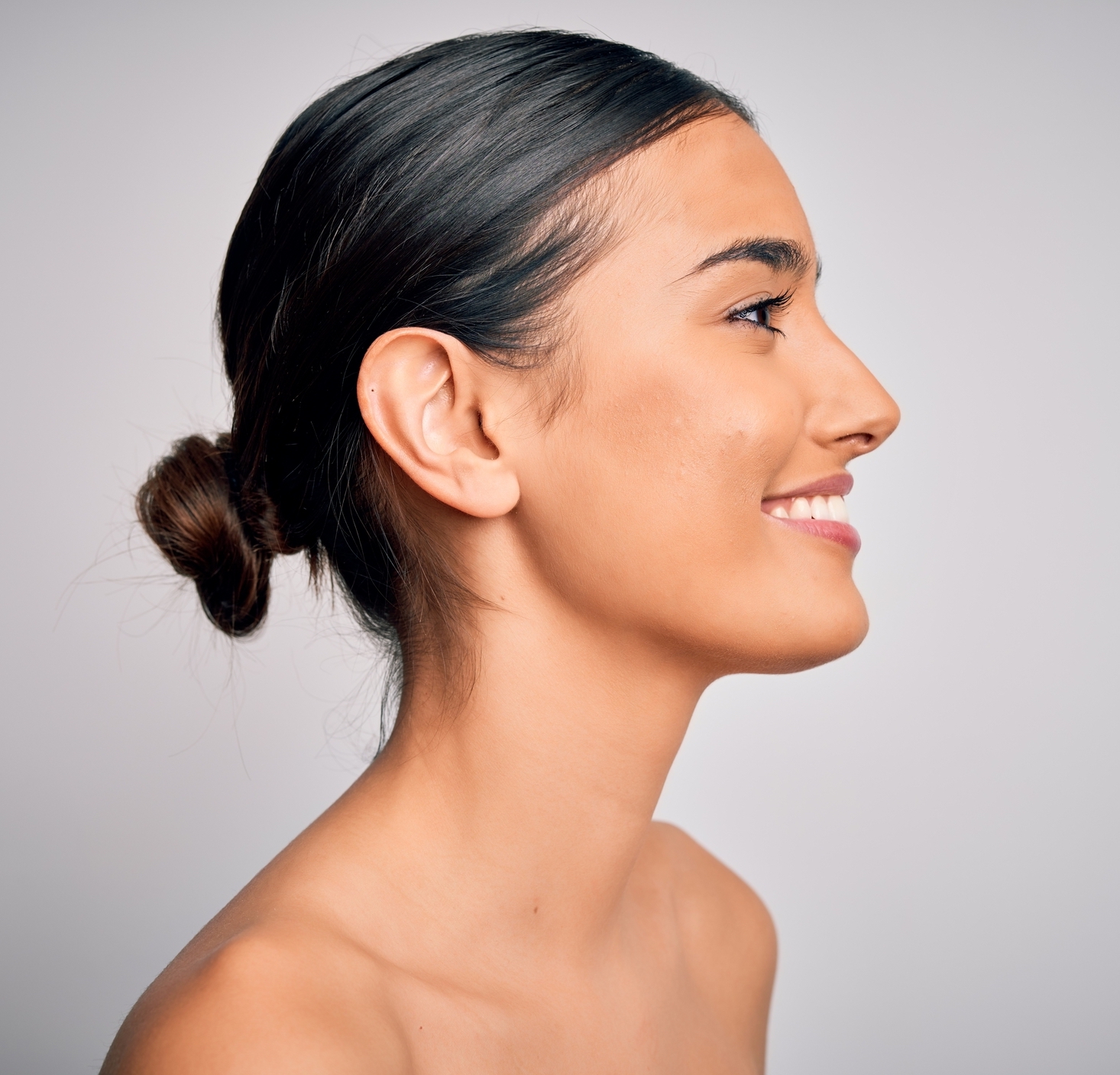 Acne is the most common skin disease in humans and it affects the lives of millions of people around the world.[ 1]
Research evidence supports that CBD oil may be helpful in treating acne as well as various other skin conditions.[ 2] However, because acne can be caused by a variety of triggers, it's usefulness may vary slightly for each individual.
Acne occurs when excess dirt, oil, and dead skin cells clog pores. This affects healthy cell turnover and leads to overgrowth of the bacteria Cutibacterium acnes ( C. acnes), which has been linked to the establishment of acne for over 100 years.[3]
C. acnes (formerly called Propionibacterium acnes) can build up in the pores causing inflammation as well as painful bumps, pustules, and pimples.
CBD oil may reduce the amount and severity of acne by regulating sebum or oil production, managing inflammation, and mitigating the acne-related bacteria C. acnes.[2]
Traditional acne treatments involve managing oil production, inflammation, and the overgrowth of C. acnes bacteria.
Current research suggests that CBD oil may target all of these.
At least four pathways have been proposed to explain CBD oil's potential efficacy in treating acne. These include:
Reducing sebum or oil overproduction
Limiting unwanted sebocyte proliferation
Decreasing inflammation markers
4. Managing the bacteria C. acnes
Besides reducing oil production, another desired effect of an anti-acne agent is to reduce the unwanted growth of new oil producing skin cells.[ 4]
A 2014 CBD and acne study found CBD exerted complex anti-inflammatory actions and reduced excessive sebum production by oil making cells known as sebocytes. Researchers also observed that CBD limited the growth of new sebocytes, without causing damaging existing cells.[ 1]
Sebocytes are cells that produce sebum or oil. They have been found to exhibit strong antimicrobial activity, and transport antioxidants to the skin. Sebocyte cells also express pro-inflammatory and anti-inflammatory properties.[ 5]
These functions make healthy sebocyte activity critical to protecting our skin from the outside world. Overactive sebocytes, however, can be a problem.
Several experimental models have demonstrated CBD's anti-inflammatory actions.[ 6] The 2014 study also observed CBD to have anti-inflammatory actions.
Specifically, CBD prevented the elevated expression of TNFA a key inflammatory cytokine in the development of acne.[ 7]
CBD has also been shown to exhibit potent antimicrobial activity against gram positive bacteria like C acnes.[ 8]
While preliminary results point to CBD as a promising acne treatment, human trials are still lacking. For doctors to recommend CBD oil for treatment and prevention of acne, human studies will need to provide direct evidence.

We love the hemp oil and salve products! My husband hasn't slept this good in a long time! Reducing the arthritis has been a great plus as well!!

CBD is just one of the hundreds of therapeutic compounds found in the Cannabis sativa plant. In fact, some researchers refer to Cannabis sativa as the plant of one thousand and one molecules.[ 9]
Full spectrum hemp oil and hemp seed oil both contain a variety of these active Cannabis compounds.
Full Spectrum Hemp Oil
Unlike CBD isolate which contains only the cannabinoid CBD, full spectrum hemp oil is a whole plant extract. This means full spectrum hemp oil retains hundreds of different bioactive compounds with varied therapeutic properties. These compounds include CBD, other cannabinoids, terpenes, stillbenes, flavonoids and others.
Full-spectrum hemp oil contains many terpenes that have been shown to have anti-microbial effects against C. acnes.[ 10][11] Research suggests that terpenes found in full-spectrum hemp oil including myrcene, α-pinene, β-caryophyllene, possess significant antimicrobial properties. [12][13]
Studies also suggest that the various Cannabis compounds present in full spectrum hemp oil work together to enhance each other's desired effects.[ 14] So, a combination of terpenes, cannabinoids and flavonoids will have stronger effects than any of these compounds alone. This phenomenon is known as the entourage effect.
Therefore, full spectrum hemp oil may be more effective in treating acne than CBD alone.
Hemp Seed Oil
Hemp seed oil is extracted from hemp seeds and also contains a variety of bioactive compounds with various skin benefits and healing properties. Hemp seed oil does not contain CBD.
One study by Jin et al examined the effects of hemp seed extract on Cutibacterium acnes (C. acnes) induced inflammation and oil production in vitro.
Researchers found that hemp seed extract exhibited anti-microbial activity against C. acnes. The study also showed that hemp seed extract exerted anti-inflammatory effects, regulated oil production, and promoted collagen synthesis.[ 15]
CBD oil's anti-inflammatory properties and antioxidant effects in the body may contribute to its usefulness in the treatment of other skin conditions.
Skin allergies: Contact dermatitis is a red, itchy skin rash caused by contact with an irritant or allergen. One in vitro model of human allergic contact dermatitis showed that CBD exhibited anti-inflammatory properties.[16] This suggests CBD may help reduce the negative effects of allergic skin reactions.
Eczema and psoriasis: CBD's anti-inflammatory properties and antioxidant effects may be helpful for inflammatory skin conditions like eczema and psoriasis. One 2019 study examined effects of CBD ointment on psoriasis and resulting scars. Researchers concluded that CBD ointment significantly improved skin parameters and symptoms.[17]
Aging and wrinkles: Researchers have found that CBD improves the production of collagen.[18] Studies have found that free radicals and oxidative stress increase collagen breakdown. CBD's antioxidant effects protect cells from free radicals and are thus thought to be helpful in improving collagen levels. CBD's antioxidant effects may help reduce the appearance of find lines and wrinkles by supporting collagen production.
FULL SPECTRUM CBD HEMP OIL
View More Info
CBD HEMP OIL FOR FACE
View More Info
How To Use
Topical CBD for acne can be applied directly to the skin whereas CBD tincture can be taken orally for long-term prevention.
For topical use directly on the skin, CBD should be mixed with a carrier oil. For example, our hemp oil face moisturizer blends CBD-rich full spectrum hemp oil with hemp seed oil, jojoba oil, rosehip oil, eucalyptus oil and lavender oil, all of which possess known skin benefits.
Taking CBD oil orally may also help with acne, as its anti-inflammatory, antioxidant, and antimicrobial compounds remain active when they enter the body.
A combined whole-body approach of oral and topical CBD oil is likely to be the most effective.
When choosing a CBD skin care product it is important to confirm its actual CBD content.
In 2017, researchers tested 84 different CBD products available to consumers. Of those 84 products, 26% contained less CBD than was advertised on the label.[ 19]
Most reputable CBD skincare companies will provide third-party laboratory test results. You can view ours here.

This face oil is the best! I have rosacea and have tried all kinds of CBD products and this one is pure magic. It soaks right in and instantly helps melt away redness.

Acne can be a problem for people of all ages and natural ways to fight acne are a welcome alternative to pharmaceuticals.
Full-spectrum hemp oil, which is rich not only in CBD but also a variety of other cannabinoids and bioactive plant compounds, has a wide array of therapeutic properties that may help reduce acne and improve the appearance of your skin.
Using CBD for acne is most effective as a whole-body approach.
A combination of topical CBD application directly to the skin and internal consumption of CBD oil under the tongue will likely yield the best results.
CBD May Help:
Regulate Sebum Production
Manage Inflammation
Improve Cell Turnover
Reduce the Negative Effects of Bacteria, Fungus and Viruses
Support Skin Elasticity and Collagen Production
Many variables influence the development of acne, including hormonal imbalances, excess sebum production, inflammation, and genetics. Factors such as diet, exercise, stress, and certain medications can also impact the severity of an individual's acne symptoms. Thus, although CBD's benefits are undeniable, an overall healthy lifestyle is critical to maintaining acne-free skin.
Sources
Oláh, A., Tóth, B. I., Borbíró, I., Sugawara, K., Szöllõsi, A. G., Czifra, G., ... & Bíró, T. (2014). Cannabidiol exerts sebostatic and antiinflammatory effects on human sebocytes. The Journal of clinical investigation, 124(9), 3713-3724.
Baswan, S. M., Klosner, A. E., Glynn, K., Rajgopal, A., Malik, K., Yim, S., & Stern, N. (2020). Therapeutic Potential of Cannabidiol (CBD) for Skin Health and Disorders. Clinical, cosmetic and investigational dermatology, 13, 927–942.
Tanghetti E. A. (2013). The role of inflammation in the pathology of acne. The Journal of clinical and aesthetic dermatology, 6(9), 27–35.
Kurokawa, I., Danby, F. W., Ju, Q., Wang, X., Xiang, L. F., Xia, L., ... & Zouboulis, C. C. (2009). New developments in our understanding of acne pathogenesis and treatment. Experimental dermatology, 18(10), 821-832.
Zouboulis C. C. (2004). Acne and sebaceous gland function. Clinics in dermatology, 22(5), 360–366.
Pisanti, S., Malfitano, A. M., Ciaglia, E., Lamberti, A., Ranieri, R., Cuomo, G., ... & Bifulco, M. (2017). Cannabidiol: State of the art and new challenges for therapeutic applications. Pharmacology & therapeutics, 175, 133-150.
Melnik, B. C., & Schmitz, G. (2009). Role of insulin, insulin‐like growth factor‐1, hyperglycaemic food and milk consumption in the pathogenesis of acne vulgaris. Experimental dermatology, 18(10), 833-841.
Appendino, G., Gibbons, S., Giana, A., Pagani, A., Grassi, G., Stavri, M., ... & Rahman, M. M. (2008). Antibacterial cannabinoids from Cannabis sativa: a structure− activity study. Journal of natural products, 71(8), 1427-1430.
Andre, C. M., Hausman, J. F., & Guerriero, G. (2016). Cannabis sativa: The Plant of the Thousand and One Molecules. Frontiers in plant science, 7, 19.
Kim, S. S., Baik, J. S., Oh, T. H., Yoon, W. J., Lee, N. H., & Hyun, C. G. (2008). Biological activities of Korean Citrus obovoides and Citrus natsudaidai essential oils against acne-inducing bacteria. Bioscience, biotechnology, and biochemistry, 72(10), 2507–2513.
Raman, A., Weir, U., & Bloomfield, S. F. (1995). Antimicrobial effects of tea-tree oil and its major components on Staphylococcus aureus, Staph. epidermidis and Propionibacterium acnes. Letters in applied microbiology, 21(4), 242–245.
Brighenti, V., Pellati, F., Steinbach, M., Maran, D., & Benvenuti, S. (2017). Development of a new extraction technique and HPLC method for the analysis of non-psychoactive cannabinoids in fibre-type Cannabis sativa L.(hemp). Journal of Pharmaceutical and Biomedical Analysis, 143, 228-236.
Mediavilla, V., & Steinemann, S. (1997). Essential oil of Cannabis sativa L. strains. J. Int. Hemp Assoc, 4, 80-82.
Russo, E. B., & McPartland, J. M. (2003). Cannabis is more than simply Δ 9-tetrahydrocannabinol. Psychopharmacology, 165(4), 431-432.
Jin, S., & Lee, M. Y. (2018). The ameliorative effect of hemp seed hexane extracts on the Propionibacterium acnes-induced inflammation and lipogenesis in sebocytes. PLoS One, 13(8), e0202933.
Petrosino, S., Verde, R., Vaia, M., Allarà, M., Iuvone, T., & Di Marzo, V. (2018). Anti-inflammatory properties of cannabidiol, a nonpsychotropic cannabinoid, in experimental allergic contact dermatitis. Journal of Pharmacology and Experimental Therapeutics, 365(3), 652-663.
Palmieri, B., Laurino, C., & Vadalà, M. (2019). A therapeutic effect of cbd-enriched ointment in inflammatory skin diseases and cutaneous scars. La Clinica terapeutica, 170(2), e93–e99.
Kogan, N. M., Melamed, E., Wasserman, E., Raphael, B., Breuer, A., Stok, K. S., Sondergaard, R., Escudero, A. V., Baraghithy, S., Attar-Namdar, M., Friedlander-Barenboim, S., Mathavan, N., Isaksson, H., Mechoulam, R., Müller, R., Bajayo, A., Gabet, Y., & Bab, I. (2015). Cannabidiol, a Major Non-Psychotropic Cannabis Constituent Enhances Fracture Healing and Stimulates Lysyl Hydroxylase Activity in Osteoblasts. Journal of bone and mineral research : the official journal of the American Society for Bone and Mineral Research, 30(10), 1905–1913.
Bonn-Miller MO, Loflin MJE, Thomas BF, Marcu JP, Hyke T, Vandrey R. Labeling Accuracy of Cannabidiol Extracts Sold Online. JAMA. 2017;318(17):1708–1709.