By Anne Sorensen on Oct 26, 2020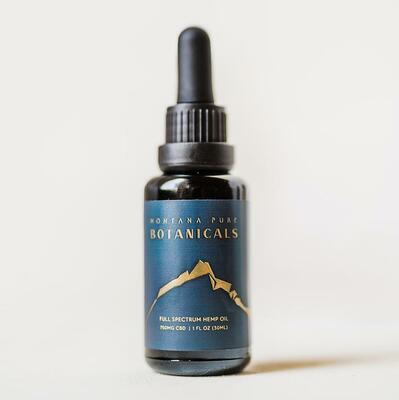 Montana Pure Botanicals only produces Full Spectrum Hemp Oil because it is the most natural, active form of hemp oil. We want you to experience CBD as nature intended with no harmful residual solvents or reverse engineering!
Hemp oil is considered Full Spectrum when all of the natural compounds extracted from the whole plant (flowers, leaves, stalks) remain in tact and in their natural form.
Hemp oil contains more than 480 natural plant compounds with CBD being just one of the most prominent! These compounds interact synergistically to create what scientists refer to as the "entourage effect". This effect magnifies the benefits of the plant's individual components so that the therapeutic impact of the whole plant is greater than the sum of its parts.
When you purchase a CBD Isolate product (most CBD products on the market), you miss out on this valuable entourage effect.
A true Full Spectrum Hemp Oil will have a vibrant smell, flavor, and color which are a result of hemp's natural terpenes and flavonoids. Once extracted, we leave our hemp oil in this vibrant, crude state. No heating. No distilling. No isolating. Just pure, active, natural CBD.

We love the hemp oil and salve products! My husband hasn't slept this good in a long time! Reducing the arthritis has been a great plus as well!!

We grow year-round to provide our customers with small-batch, fresh hemp oil. While most producers are still shipping their hemp oil inventory from 2021, we keep our grows small to continue turning over the freshest hemp oil possible!
All of our products are packaged in ultraviolet glass which is impenetrable to harmful UV rays and protects the integrity, potency, and shelf life of your CBD hemp oil within. Our jars and bottles are also air-tight which preserves the freshness of your oil.
Don't be fooled by other CBD companies packaging their oil in black painted clear bottles. Most of these types of bottles are made in China and use black leaded paint to give the appearance of being ultraviolet (but are not).
Additionally, our Full Spectrum Hemp Oils come with a calibrated glass dropper. The majority of CBD products on the market come with a clear glass dropper with no dosing calibrations so it's really difficult to know how much CBD you are taking. With calibration markers, you can be consistent in your dosing and learn what works best for you on a daily basis!
Montana is one of the most beautiful, untouched places on Earth. Beneath the glacier peaks, you'll find fertile soils, fresh mountain waters, and pure natural minerals. We would argue it is the best place to grow hempin the world.
To demonstrate our quality, all of our products are triple laboratory tested. Our hemp biomass is first tested by the Montana Dept. of Agriculture for cannabinoid content and potency. Then our crude hemp oil is third-party laboratory tested by Fidelity Diagnostics to ensure an organic CBD hemp oil free from pesticides, toxins, and heavy metals. Similar testing is then conducted on all of our final products and these results (called Certificate of Analysis) may be viewed by batch number right here on our website.
Every one of our hemp CBD products is labeled with a batch number and expiration date. Upon receipt of your order, you may look up the batch number and know exactly what is in your hemp oil product - down to the very last cannabinoid!
FULL SPECTRUM CBD HEMP OIL
View More Info
CBD HEMP OIL FOR FACE
View More Info
It's imperative that you use only organic hemp oil products and here's why – the hemp plant is what's called a bio-accumulator and soil remediator. Soil remediators are Mother Nature's vacuum cleaners.
The hemp plant grows quickly, has deep roots, and ravenously absorbs a wide variety of compounds from the soil including any chemicals, heavy metals, and radioactive elements that are present. In fact, hemp has been used all over the world to clean up polluted areas affected by radiation.
So guess what – all of the compounds (both good and bad) that hemp absorbs from the soil goes right into your CBD hemp oil. That's why it's so important that you know where and how your hemp was grown. Much to our dismay, most hemp CBD products on the market today are not organic.
All of our hemp is organically grown in Montana and all of our carrier oils and additional ingredients are also 100% organic. This is truly rare - but very important - especially when it comes to CBD skincare.

This face oil is the best! I have rosacea and have tried all kinds of CBD products and this one is pure magic. It soaks right in and instantly helps melt away redness.

We want you to love your CBD hemp oil! That's why we offer a 30-day 100% satisfaction guarantee on every one of our products. If you are a first-time customer, you may return any items from your first purchase and receive a full refund - no questions asked. This is our promise to you, our wonderful customers, and we want you to shop with confidence.
At Montana Pure Botanicals, our mission from Day 1 has been to grow, harvest, and extract the purest Full Spectrum CBD Hemp Oils in the world. Growing organically here in Montana, we believe we are doing just that!